BLUE HERON PENDANT 2
Blue Heron Pendant Hand Carved in Ancient Alaskan Mammoth Ivory ~ Jasper Stone and Sterling Silver accents on adjustable leather cord.

The contrasting dark blue and cream colors of Alaskan Mammoth Ivory highlight the profile of the heron over the reeds against a moon background. An unusual and beautiful pendant.

Length: 1 1/4"
Heron Totem/Symbolism ~ Self reliance and dignity. Balancing relationship and independence. The Heron Totem holds the courage to walk into deep waters without fear.
Price includes Shipping
Featured Products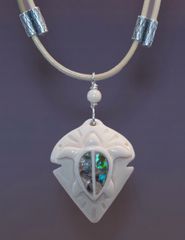 SEA TURTLE PENDANT
$275.00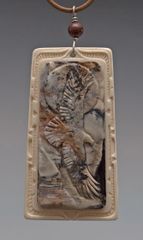 EAGLE PENDANT
$425.00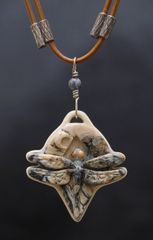 DRAGONFLY PENDANT 3
$325.00