REVERANCE ~ LION & GIRAFFE PENDANT ~ SOLD
REVERANCE ~ LION & GIRAFFE PENDANT ~ SOLD
Siberian Mammoth Ivory. Labradorite Stone, Sterling Silver Accents. Adjustable Leather Cord

Carved in the beautiful slate blue, tan, and cream tones of rare Siberian Mammoth Ivory, this stunning pendant portrays the majesty and synergistic relationship of the Lion and Giraffe. It was created to express a reverence for these two powerful African animals. Photo #2 reveals light shining through the piece, highlighting the African tree in the center.
Length: 3"
Lion Symbolism: Courage, strength, assertiveness, and personal power.
Giraffe Symbolism: The power and protection of community, sensing the future, and reaching higher levels of knowledge.
Featured Products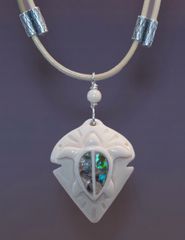 SEA TURTLE PENDANT
$275.00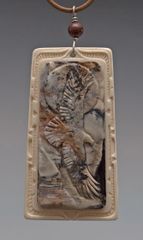 EAGLE PENDANT
$425.00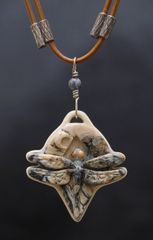 DRAGONFLY PENDANT 3
$325.00