TREE OF LIFE PENDANT 3
Tree of Life Pendant in Ancient Fossil Walrus Ivory ~ Brass Inlay ~ Czech Glass and Sterling Silver accents on adjustable leather cord.

The crushed brass tree in this delicate tear shaped pendant has a subtle sparkling effect that makes a wonderful contrasting inlay against the rich cream and tan tones of the fossil walrus ivory.
Length: 1"
Tree of Life ~ Symbol of enduring life, shelter, solidarity, and interconnectedness.

Price includes Shipping
Teardrop Shape Brass Inlay

Featured Products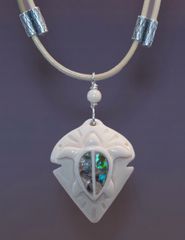 SEA TURTLE PENDANT
$275.00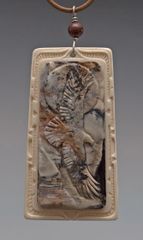 EAGLE PENDANT
$425.00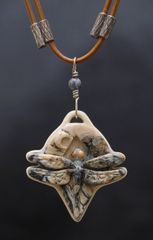 DRAGONFLY PENDANT 3
$325.00